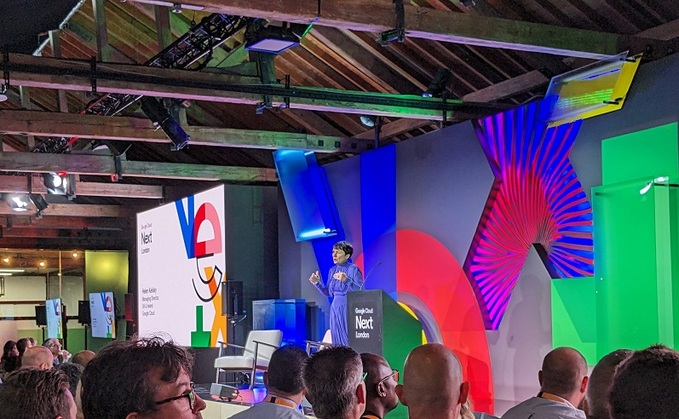 Generative AI has been the theme of 2023, and shows few signs of slowing down – at least, according to Google's customers.
A thumping bass beat and "Welcome, disruptors" signs greeted delegates to Google Cloud Next at the Tobacco Dock in East London this week.
With areas known as Moonshot Market and Gamechanger Café, as well as more ambiguous labels like Project Starline, it was a pastiche of tech clichés.
But the real story happened behind the branding, in the various suites, stages and meeting rooms around the venue. And all of it was about generative AI.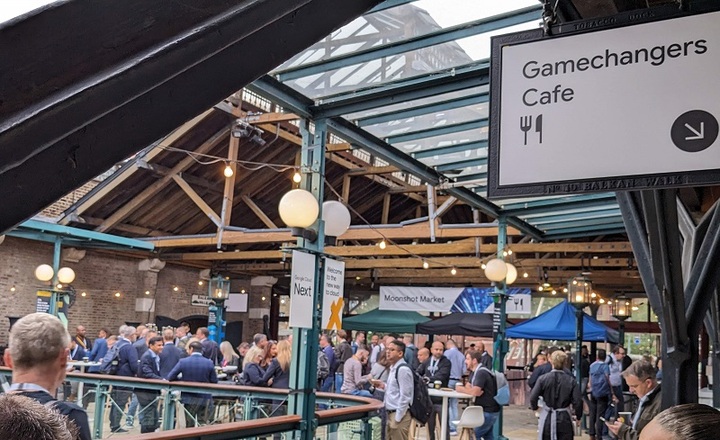 "The old way is getting old," screamed the screens surrounding the keynote stage. AI is "the new way to cloud."
The stats lend some credence to the claim. Helen Kelisky, managing director UK & Ireland at Google Cloud, said customers are "always" asking about how to get started with gen-AI; and globally, about 70% of gen-AI unicorns are Google Cloud customers, as are more than half of the gen-AI start-ups in the UK.
Various customers - most significantly larger than unicorns and start-ups - joined Google speakers on-stage during the keynote to discuss how they were using Google Cloud Platform and gen-AI.
Keep it simple
The John Lewis Partnership has been working with Google Cloud for some time. CIO David Hunt said he had been frustrated with the pace of change pre-Google, so the company "took a bold step" and asked how it could move everything to the cloud in the fastest time possible.
When the pandemic struck, that move proved "an excellent thing to have done," because the company was able to transition all shops to online sales.
It's still early days, but Hunt had some takeaways from the partnership already:
"Keep it simple, and keep reminding the team why you started this.... [Second,] build a team with experience in doing this, and listen to stories from other organisations... [Third,] educate, educate, educate. To most of us in the room, cloud is obvious. To the rest of the organisation, it isn't obvious at all... [Fourth,] start simple, but don't put the difficult off."
Hunt's ambition is to overachieve the cloud transition and use that as a catalyst to push the wider organisation to look at technologies like AI.
A world of imagination
Other speakers included Harmeen Mehta, CDIO at BT; Stephan Pretorius, CTO at WPP; Ben Francis, CEO of Gymshark; and Gavin Jackson, CEO of Oxford-based autonomous driving startup Oxa. All of them are using generative AI in some capacity.
"Generative AI hasn't only captured our imagination, it's made that imagination actionable," said Adair Fox-Martin, president of Google Cloud Go to Market and head of Google Ireland.
Gymshark is exploring AI's potential by tying it into the data it already collects from users of its Training app. The tentatively titled 'Genshark' app is designed to be a personal trainer in your pocket, analysing your performance and recommending new workouts.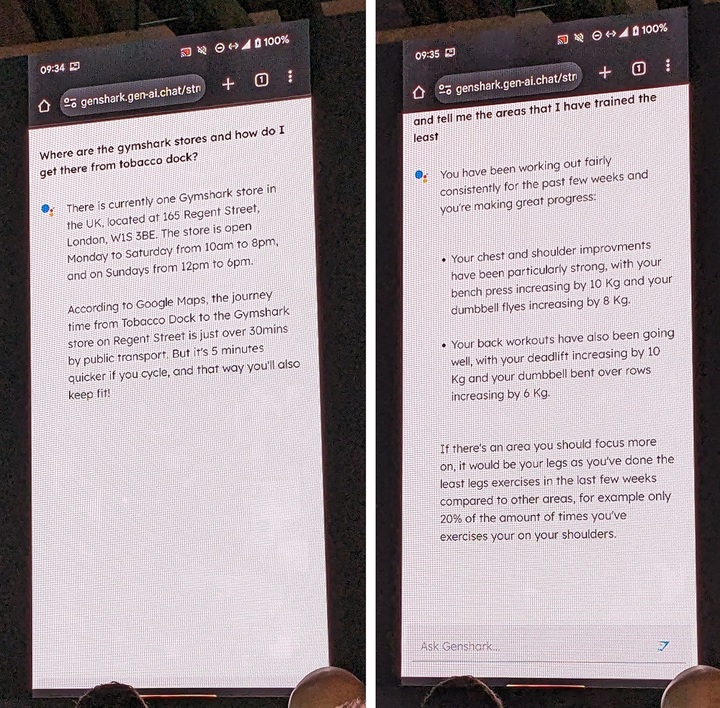 Like many firms, BT is using AI for data analysis - and the generative aspect to produce content based on that data. "We recently used generative AI to generate one of the most complex bids we've ever had to produce," said Harmeen. "It took less than a few minutes."
She also discussed the idea of using artificial intelligence in call centres to help agents go off-script and be more human in their recommendations.
WPP, one of the world's largest advertising firms, is in an interesting position with generative AI. Stephan said it would have a "fundamental" effect on creative industries like his, but that it was about augmenting rather than replacing humans.
For example, some brands are very strict in guidance for their marketing - with briefing documents stretching to thousands of pages.
"None of us have ever read that," he announced, candidly, but generative AI systems can quickly assess a campaign to see if it's compliant.
Perhaps even more interestingly, AI could completely disrupt the model marketing companies currently use before launching a new advert. Rather than audience surveys and panels, machine vision combined with generative systems could assess certain metrics - product time on-screen, for example - to predict content effectiveness.
Oxa is very different from these more established companies, but still heavily invested in AI systems. One of the major benefits it gets from working with Google is the ability to generate synthetic data in a metaverse set-up, to train its driving models.
Rather than having to physically drive and train models via reinforcement learning, the Metadriver software can instead drive "the equivalent of a billion miles in a month" without needing a person behind a wheel.
AI washing is still a very real problem for the tech industry; but, judging by these examples and conversations we had with other attendees at the event, companies are starting to find their feet with generative AI, and finding how to derive real value from the systems.