Best tech jobs for new starters - Q3 2023
The IT market is an attractive one to work in, offering high salaries, independent working and flexible locations and hours. But it's also highly competitive and confusing. Understanding where to start gaining the skills you need to progress - and what they'll lead to later in your career - can be difficult.
That's why Computing has joined forces with IT recruitment specialist Harvey Nash to present a quarterly update of the market for entry-level tech roles in the UK.
Below you'll find an analysis of the jobs market in the third quarter of 2023; the most in-demand roles for new starters; the common skills they require; and their average starting salaries.
Cause for optimism
Whilst there may some nervousness about the overall economy, when you shine a light on the detail of UK tech industry, there are quite a lot of optimistic signs.
During the pandemic some organisations experienced hyper growth in tech roles. Things have now settled down, and while growth is no longer at the levels we saw a year ago, it is still there.
Data from the ONS shows an significant increase in the number of technology jobs advertised in the last quarter. It also shows that the sector enjoyed one of its strongest quarters, with 85,000 jobs being added, taking the overall number of people employed in the UK tech sector to 1.73 million.
Anyone considering a career in tech or working in the sector right now should be reassured by recent valuations of the UK tech industry. According to HSBC, the total value of the UK's tech sector has climbed to its highest ever level this year - an impressive £817bn. This places the UK 3rd globally, behind China and the USA.
Demand for tech skills remain strong across a broad range of specialism and sectors, with a recent report by Gigged.AI highlighting that 57% of tech professionals across the UK say that the tech talent shortage has actually increased.
In terms of entry level roles into the tech sector, demand for Infrastructure, Data/BI/Analytics and Software Engineering remain largely unchanged since June 2023, according to global technology recruiter Harvey Nash. However, requirements for business analyst roles have increased over the last quarter.
Entry level roles and skills currently in demand, according to global technology recruiter Harvey Nash, include:

Infrastructure (34% of all entry level vacancies)
Software engineering (18% of all entry level vacancies)
Data/BI/Analytics (11% of all entry level vacancies)
Typical roles for these disciplines include:
Infrastructure roles: System managers; ITOC analysts; platform engineers; support engineers; Sys admin. These tend to be a precursor to cloud and DevOps roles.
Data/BI/Analytic roles: Data analysts; data scientists; business intelligence developers; data developers/engineers
Software engineers: JavaScript developers; C#, Python and full stack engineers.
When recruiting for these roles, employers are looking for:
Infrastructure
A good understanding of a wide range of operating systems hardware/software. Excellent problem-solving skills and strong verbal and written communication. Depending on the sector and size of the business, a willingness for shift work can also be helpful as these roles often are critical to the smooth running of businesses.
Data/BI/Analytics roles
Key skills employers look for in candidates include strong attention to detail, excellent analytical skills - for example spotting patterns in data, an ability to turn data into actionable insights as well as a good understanding of data - in particular data security/cyber awareness; understand what data you have and how you secure it.
Software engineers
Experience of software programmes such as PHP, JavaScript, SQL, TSQL. CSS, HTML. Key attributes include being natural problem solvers, strong understanding of programming, critical thinking and customer and solution focused. Employers are looking for candidates who constantly evolve their knowledge stay up to date/at the bleeding edge.
Average salaries for these roles range from:
Infrastructure: £31,000
Software Engineering: £38,000
Data/BI/Analytics: £36,000
The above salaries do not take into consideration regional variations, for example London salaries tend to be higher.
Top geographies for tech roles
Remote working has benefited those looking for tech roles, with many organisation now offering fully remote or hybrid positions. However, when it comes to locations, London (unsurprisingly), the North West and Birmingham remain the strongest in terms of those employed in the sector.
IT Employment by Region (ONS)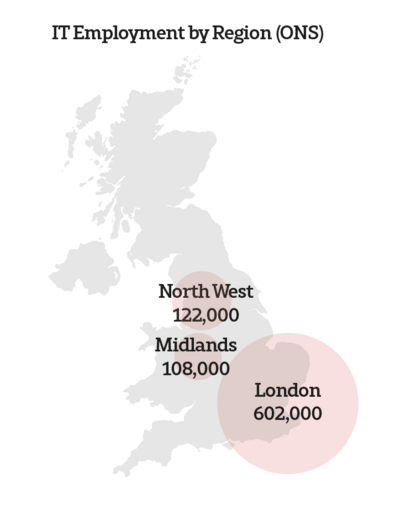 London: 602,000
North West: 122,000
Midlands: 108,000
This aligns with data from the 2022 Digital Leadership Report, published by Harvey Nash's parent company Nash Squared. According to the report, many organisations across the UK planned to increase their tech budgets, creating more employment opportunities.
Organisations looking to increase tech budgets in the next 12 months (Nash Squared Digital Leadership Report)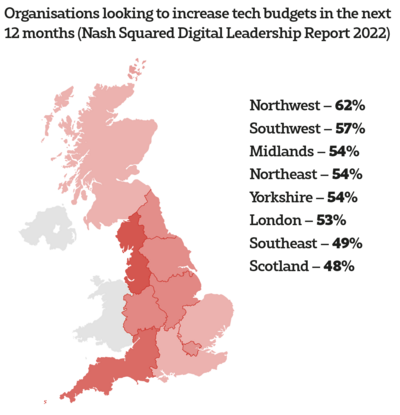 Northwest - 62%
Southwest - 57%
Midlands - 54%
Northeast - 54%
Yorkshire - 54%
London - 53%
Southeast - 49%
Scotland - 48%
East Anglia - 31%
How to stand out to hiring companies.
Clearly demonstrating that you have the skills the organisation is looking for is important. However, when you may not have a lot of experience how else can you set yourself up for success?
Your CV
Firstly, be concise. Don't pad. Keep it clear, use bullet points and make it easy for the hiring manager to read.
Emphasise any work experience, even if not directly related to the role you are applying for. It helps demonstrate that you have the right attitude to work - something all employers are looking for.
Include extra-curricular activities, your interests, or groups you are a member of. Again, this helps hiring managers to paint a more holistic view of you as a potential employee and will highlight your soft skills.
Interviews
Be proactive. Do your research and know why you want to work for the company.
Research your interviewers. Know who you are meeting, what their career progression has looked like and the companies they have worked for. It will help you to quickly build rapport but also shows that you are passionate about joining the company.
Have the right attitude. There is a well-known phrase that says hire for attitude, not for skills, as it's hard to change attitude but easier to train skills. This remains true; the right attitude can take you far. So, show you are motivated to join the company, remain flexible and be willing to learn.
About Harvey Nash
Harvey Nash builds amazing technology and digital teams. From senior appointments through to recruitment and project solutions, they are experts in the tech sector.