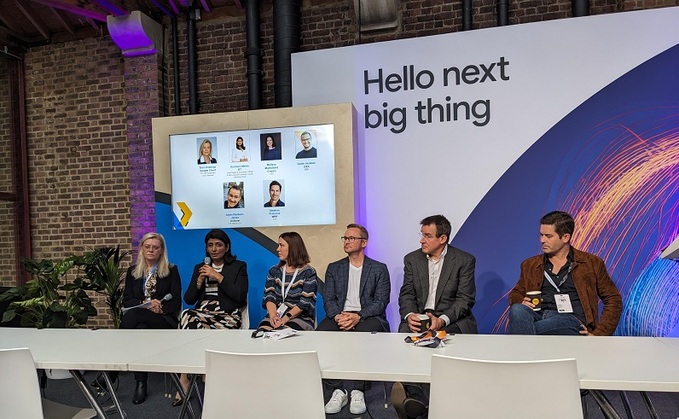 Machines that can create content – text, images, video or code – will disrupt the workforce, but there are some skills they cannot replicate, said senior IT leaders at Google Cloud Next in London this week.
Speaking on a customer panel, Stephan Pretorius - CTO at WPP - said young people today are entering the workforce with "fundamentally different" skills than they were 10 years ago.
"You're not going to have to learn advanced tech; you're coming into the workforce with those skills." With that in mind, we can't expect them to follow the same career path as today's leaders.
"At the same time," he added, "learning the soft skills of your craft - how to read a room, build relationships, win someone's trust - those are fundamental, and those won't change."
Those skills are likely to become even more important over time, which makes Stephan "optimistic" about the idea of machines augmenting humans, rather than replacing them.
Harmeen Mehta, CDIO at BT, said it can be "very intimidating" for a new starter to join a company like hers.
"You are only as good as who you know - and you know very few people."
But, like Stephan, she said these people have the skills for the modern age - skills to cope with the "fundamental change" that AI will bring to society.
"The skills I need today are not what the company has today. We need to bring in new skills and also reskill the people I already have."
AI can help with that, at both the new and mature end of the spectrum. "For a new person coming in, one of the biggest complaints I get is the length of time it takes to get them ready: that's what this technology does."
Adam Raeburn-James, CTO at Unilever, agreed that combining hard and soft skills will be the path to success over the next decade:
"The people who will do really well will be the ones who learn how to harness the technology the best...combining it with the human skills.
"Our challenge is how do we help people make that journey?"
WPP has already started to answer that question, partly through an apprenticeship and mentoring programme and partly through a framework Stephan called "inspiration, automation and optimisation."
"Inspiration is all about augmented creativity - making humans faster and more creative... Automation is about taking jobs that are manual and tedious and not of value to anyone and automating them out... Optimisation is the whole area of how to create better outcomes.
"[Optimisation] is not all about generative AI, but it does play a role... We still haven't seen machines creating breakthrough new ideas. It doesn't have that human, cultural insight. The human touch is still important."